Faith Nketsi blasts her house helper again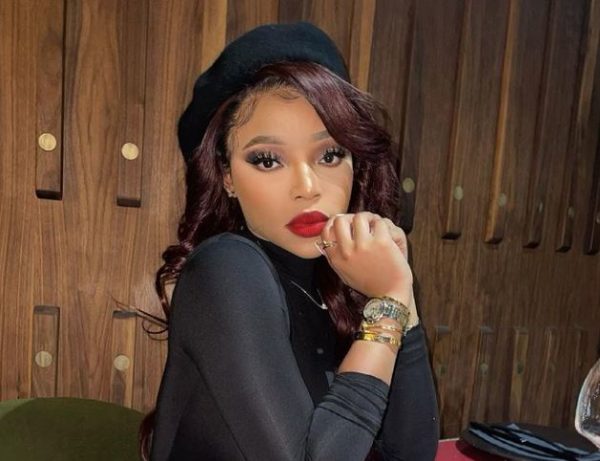 Faith Nketsi has taken to her social media to blast her helper.
Recall, the star has previously called out her helpers for stealing from her.
The Malawian family took of some Nketsi-Njilo's valuable items including very expensive brand bags and flee the country.
Well, Faith has once again slammed her house helper for the whole world to see.
She took to Twitter to ask her fans and followers with the current issues she is having with her new house helpers. In her rant, Nketsi-Njilo is lambasting her house helper for not doing everything she asks her to do around the house.
"GUYS! Sizani. Uaunty is great at what she does ne. But for some reason, I get a weird vibe when I ask her to assist me, but I thought I won't address it because it could just be in my head. Before I carry on,she was referred to us by a family members aunty…" wrote Faith Nketsi-Njilo
Faith continues to mention that her house helper doesn't want to help in the house, especially her. However, she goes above and beyond to assist the husband with everything he needs around the house.
"I come downstairs and find her crying literal tears as she's explaining to my husband what happened (my husband was upstairs looking for my glue at the time this whole thing happened). Husband is so confused at this point but i didn't have time to talk. I came back and me and Aunty are beefing in my house! She's not talking to me I'm not talking to her. She even sitting on the other side of the house. Husband gets home and we spoke, he tells me that she told him her version of what happened" wrote Nketsi-Njilo
She said she finds it irritating when her house helper complains about being an elderly person, who has kids who are the same age as she is.
"She then went to tell him that she's shocked at how I spoke to her like she's a slave and she's just here to help(siya babisana) the for she doesn't understand where the disrespect comes from and she has kids my age. Now what annoys me is that I'm now feeling uncomfortable in my own home. There's a big elephant in the room and I don't know where to even start. The only reason why I've never addressed any prior issues I've had with her is because umuntu omdala" wrote Nketsi-Njilo
See tweet below:
#Storytime: GUYS! Sizani. Uaunty is great at what she does ne. But for some reason, I get a weird vibe when I ask her to assist me, but I thought I won't address it because it could just be in my head. Before I carry on,she was referred to us by a family members aunty… ➡️

— faith Nketsi Njilo (@_faith_nketsi) November 10, 2022